Wilmington-Catalina Airline, Ltd.

In 1931, Philip Wrigley helped design a unique airport at Hamilton Cove, the second cove north of Avalon. This airport was designed to accommodate the Douglas Dolphin amphibian planes of the Wilmington-Catalina Air Line, Ltd., a Wrigley-operated firm.The twin engine Dolphins landed just offshore and would taxi up a ramp to a large turntable mechanism. The airplane would then be rotated until it was facing the water and ready for a trip back to the mainland. A small Spanish-style terminal building welcomed residents, business people and tourists to Catalina.

Wilmington-Catalina Air Line was noted in the March 1941 issue of Flying and Popular Aviation as "the shortest airline in the world." The article points out that not only was Wilmington-Catalina Air Line, serving two towns less than thirty miles apart, the shortest but also the safest airline, having flown the channel 38,000 times carrying over 200,000 passengers with no accidents or injuries between 1931 and 1941.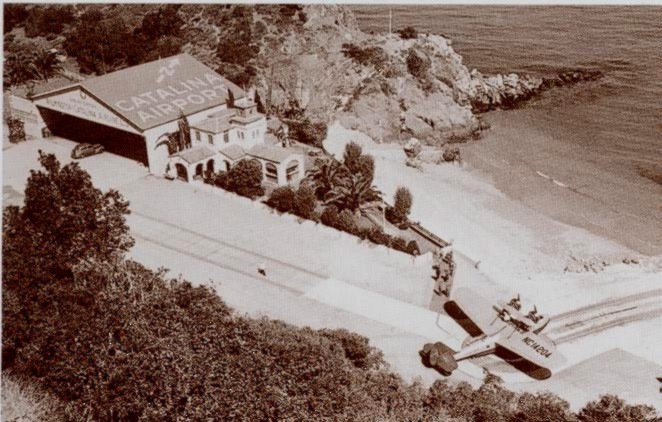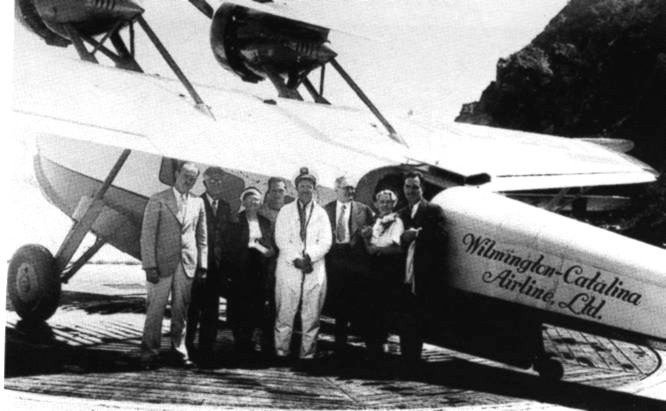 One person responsible for the little airlines' impressive accomplishments was Walter Seiler, in 1948 a 48 year old "vice president, general manager, and chief pilot" of the operation. Though during the 1930s and early 1940s the line employed as many as nine pilots in the summer (five in winter), Seiler was aboard nearly 25% of flights during the airline's first decade.

Chief Pilot Walter Seiler (in white uniform) at Hamilton Cove airport with Douglas Dolphin amphibian.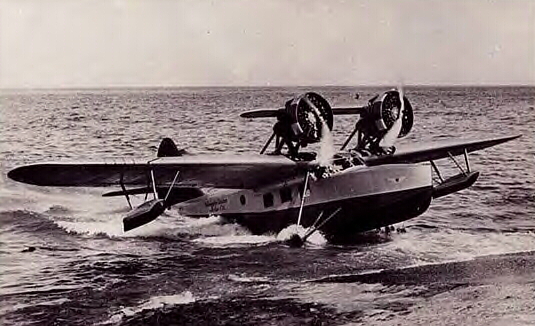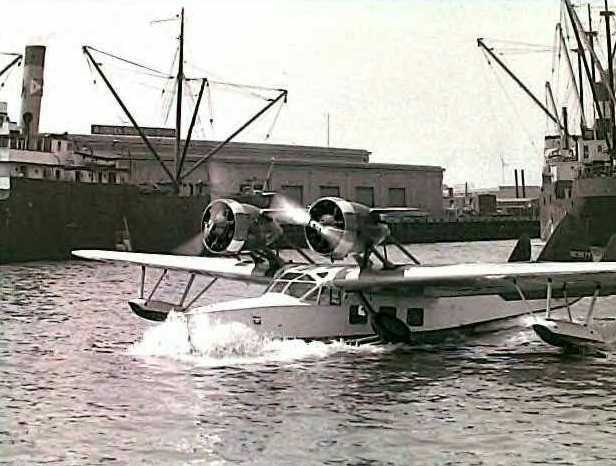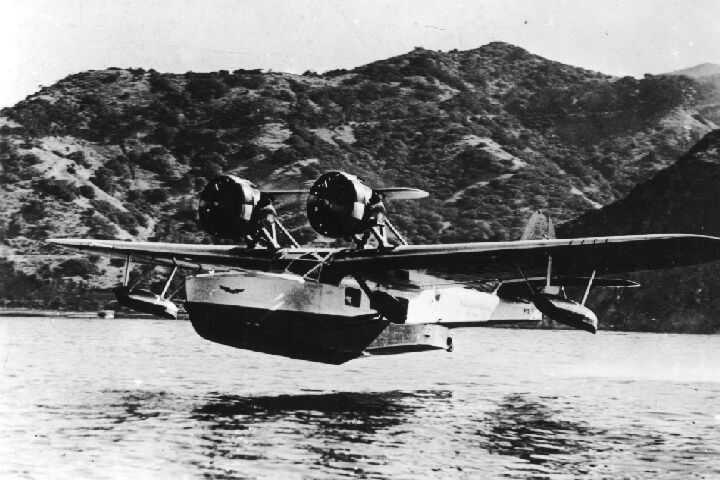 A Douglas Dolphin lifts-off for a return trip to Wilmington. Thanks to Roy Nagl for this photo.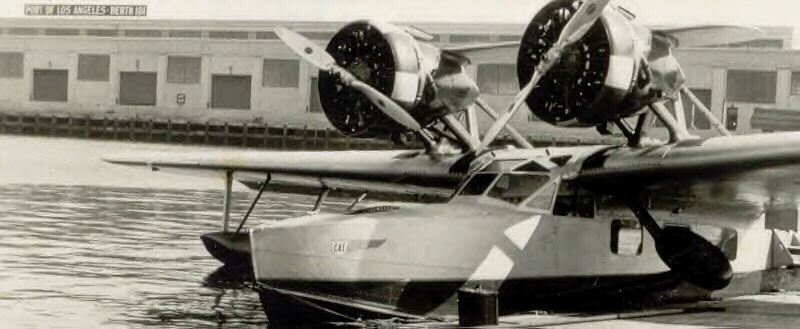 Douglas Dolphin at Wilmington Terminal, 1940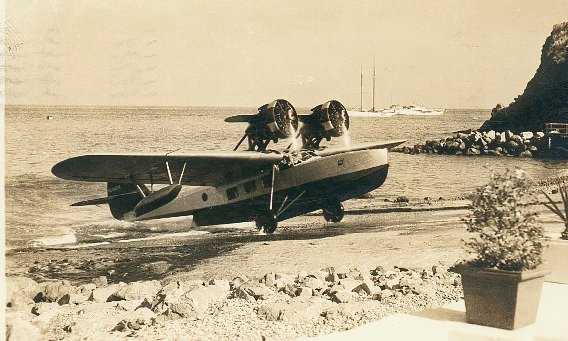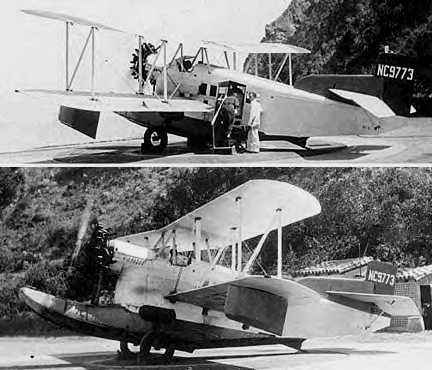 Wilmington-Catalina Loening C2H amphibian at the Hamilton Cove airport.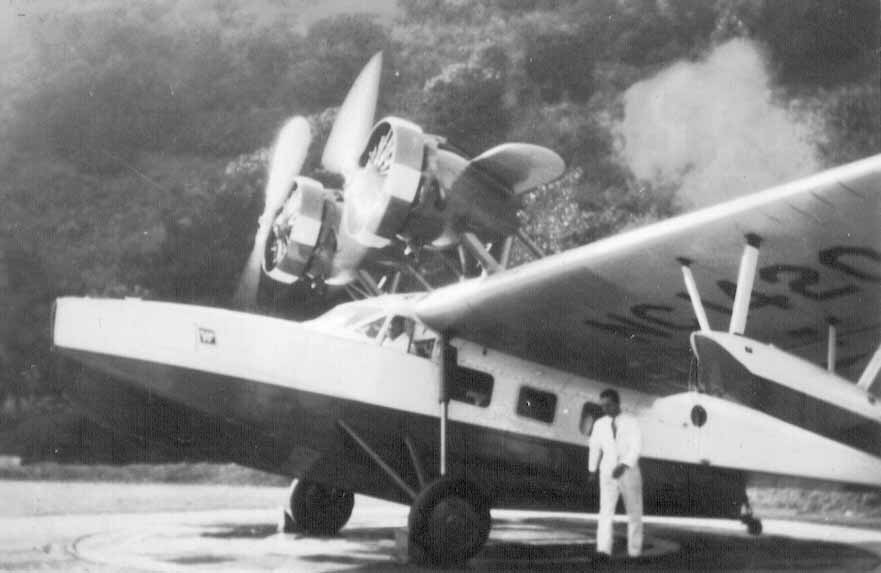 Wilmington-Catalina Douglas Dolphin on the turntable at Hamilton Cove. Thanks to Larry Brooks for this photo.

Photo taken from the viewing patio of a Dolphin climbing the ramp. The terminal's patio was a popular spot to watch seaplane operations.

A Douglas Dolphin on the ramp, concluding a flight from Wilmington.

Above photo courtesy of Eugene Downes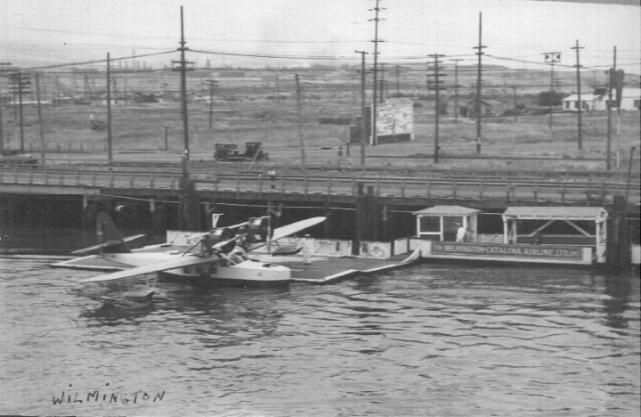 Wilmington-Catalina Dolphin at Wilmington dock. Photo courtesy of Eugene Downes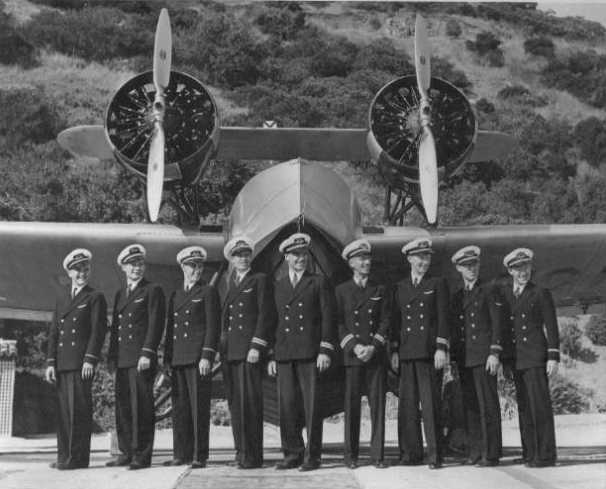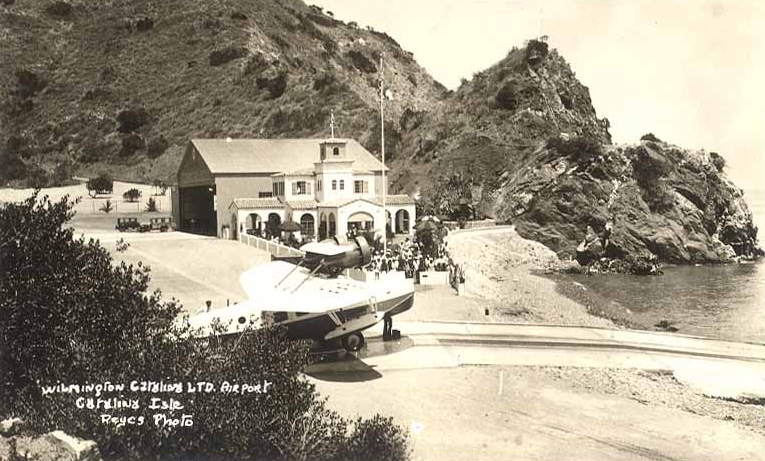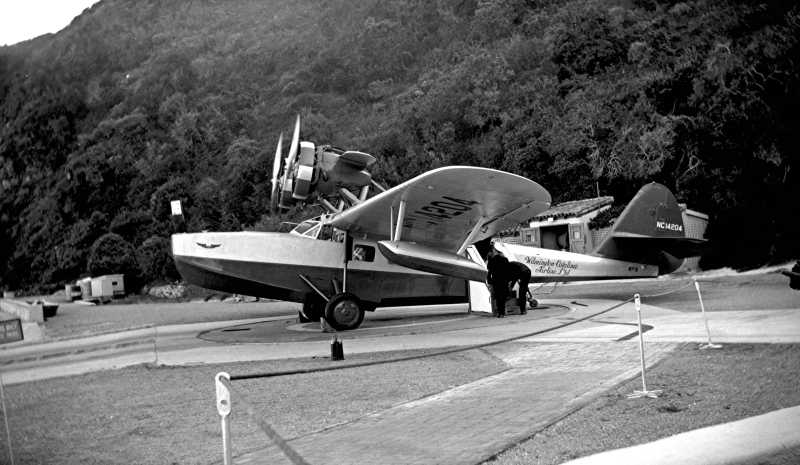 Dolphin on Turntable. Photo courtesy of Steve Fisher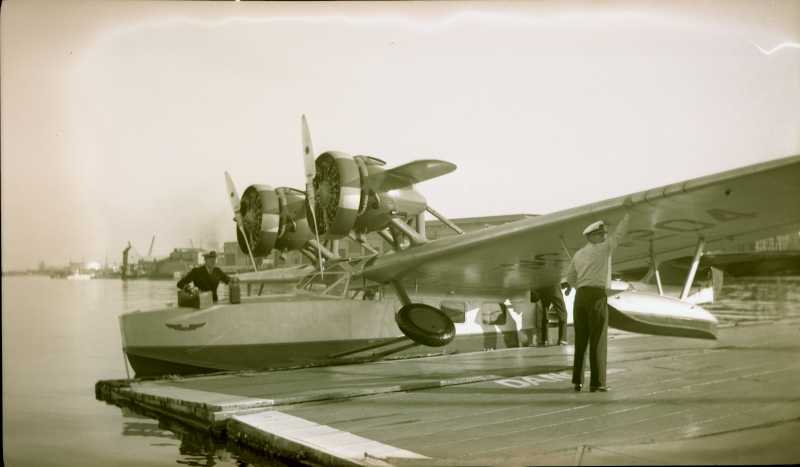 Dolphin at Wilmington dock. Photo courtesy of Steve Fisher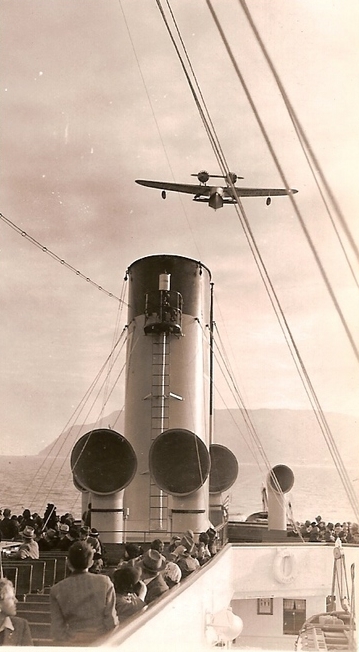 Airborne Douglas Dolphin seen from the deck of the SS Avalon.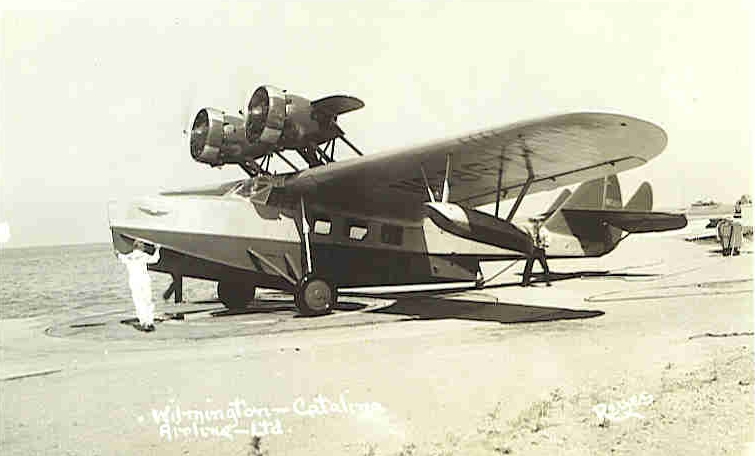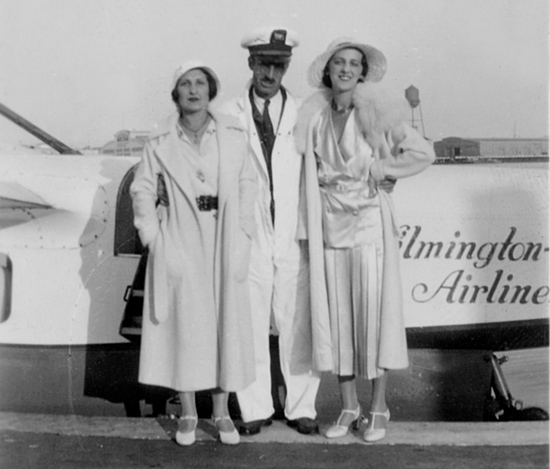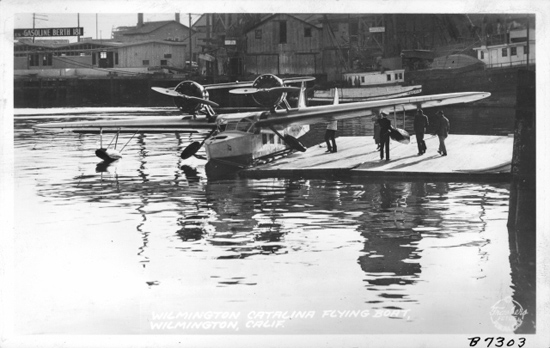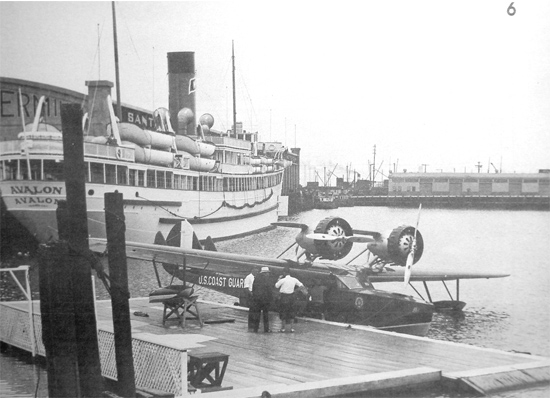 Chief Pilot Walt Seiler posing with two unidentified passengers.

US Coast Guard Douglas Dolphin with SS Avalon in Los Angeles Harbor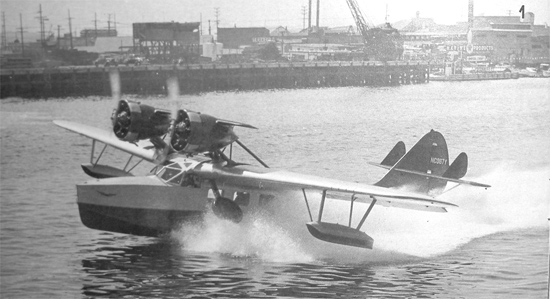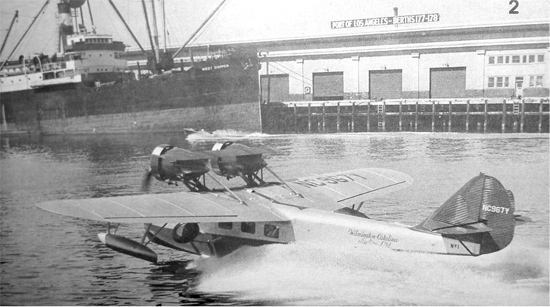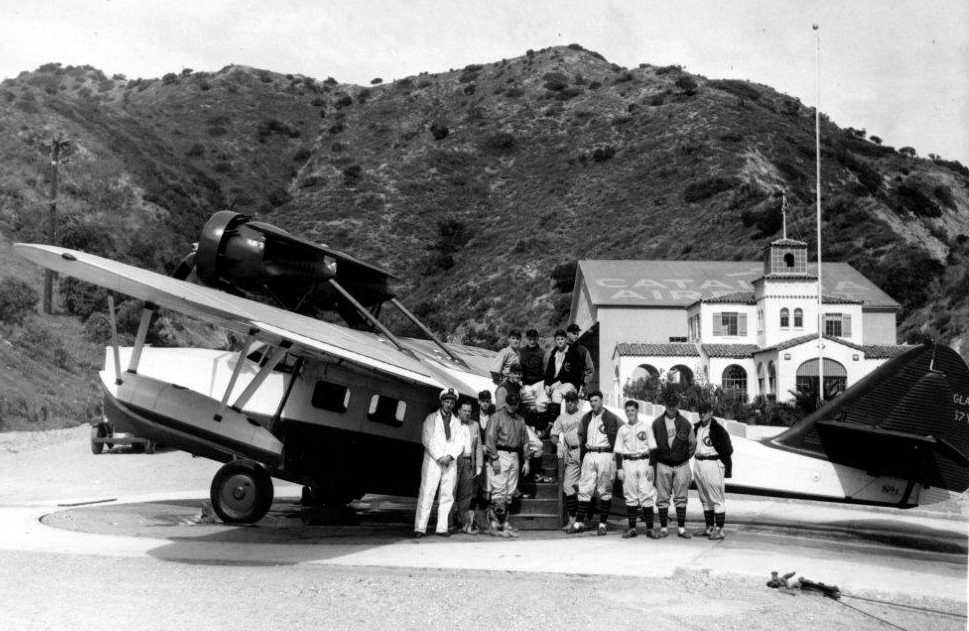 Chicago Cubs at the Hamilton Cove airport.